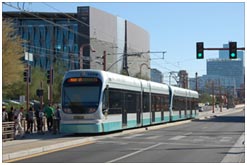 Phoenix Voters Approve $31.7B Transportation Plan
DALLAS — Phoenix voters have approved a $31.7 billion, 35-year transportation plan supported by an increased and extended special city sales tax that will fund a tripling of Valley Metro's light rail system along with more buses and city street upgrades.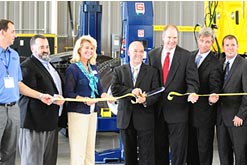 NWA commercial building surge pushes July permits over $101 million
Construction crews across Benton and Washington counties report a busy and productive July with combined residential and commercial permit values exceeding $101.278 million among the region's four largest cities.
Alabaster's new homes, commercial buildings already top 2010-2012 totals
ALABASTER – The home and commercial building sectors in Alabaster are continuing their comeback, and have already topped year-end totals for 2010-2012, according to the city's Department of Building Safety.
USACE: Improving the State of the Nations Infrastructure
The U.S. Army Corps of Engineers is marching forward with a new plan to transform the way they do business. In these historic times in our Nation and in the world, the Corps is working to play a pivotal role in helping shape America's future.
California Nears Law Requiring Organic Waste Infrastructure Planning
California's assembly has passed a bill requiring local governments to plan for the building of sufficient composting infrastructure to process organic waste.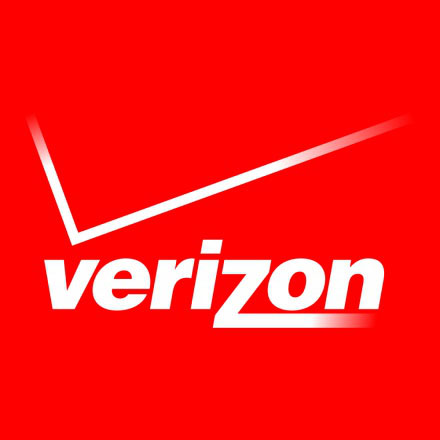 The Oasis Restaurant & Delivery Uses Telematics to Improve Driver Safety & Lower Insurance Premiums
Having every delivery car branded with the company's name and logo helps Oasis Restaurant drive brand recognition. However, unsafe driving behaviors like speeding were not projecting a positive company image. In addition to holding drivers more accountable, Oasis also wanted to improve routing efficiency and maintenance processes in order to reduce operational costs. The solution required a GPS tracking system with engine diagnostics, allowing restaurant managers to track the location and performance of their vehicles at all times.
http://www.networkfleet.com/expertise/gps-tracking-companies-case-studies/new-case-studies_20140902.htm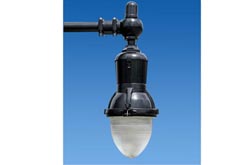 Acuity Brands, Inc.
Acuity Brands, Inc. launches the new Pedestrian Tear Drop LED Series luminaire from Holophane® . The new series combines a classic and elegant outdoor lighting design with modern, long-life LED light sources that reduce energy consumption, promote sustainability and minimize maintenance costs.
acuitybrands.com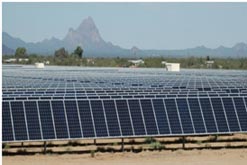 U.S. Navy will install 210 MW of solar energy in the Arizona desert
The Department of the Navy (DON) announced it will make the largest investment in renewable energy by an federal entity. Its plan is to install a huge 210 megawatt (MW) solar facility – enough to power 80,000 Californian homes – in the Arizona desert, which would serve electricity to 14 US Navy installations.
Sevier Solid Waste launches $2.25M renewable energy project
Sevier Solid Waste Inc. in Pigeon Forge has launched its second multimillion-dollar project this year aimed at transforming its operation into a zero-waste facility. It has partnered with Nashville-based PHG Energy to build a $2.25 million biomass gasification plant capable of cleanly converting more than 30 tons of composted material daily into thermal energy while producing a valuable high-carbon biochar that will be sold as fuel.
The Grand Coulee Dam: A Potent Energy Producer
Although not as popular as the Hoover Dam, the Grand Coulee Dam, located in Washington State along the Columbia River, is significant because of its potent energy production during World War II and its means to provide irrigation to over 60 crops in the United States.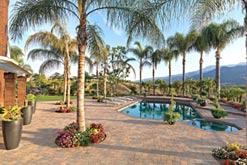 Angelus Block
Founded in 1946, Angelus Block is California's leading producer of concrete masonry units, interlocking concrete pavers, permeable pavers, decorative site wall units, and segmental planter wall units. The spirit and intent of sustainable design and high-performance building can extend beyond specific credit definitions within green rating systems. Angelus product lines have exceptional value in achieving that balance with natural, inherent qualities, combining multiple beneficial functions into single systems, while advancing life cycle and life safety programming.
www.angelusblock.com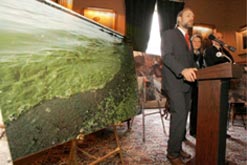 EPA Plan To Reduce Algae-Fueling Phosphorus Is Problematic, Critics Say
Earlier this month, the Environmental Protection Agency and the Vermont state government released new targets for reducing pollution in Lake Champlain and a detailed plan for how the state would reach those targets.
Indy Invests in an Electric Carshare Service
Since 2008, I have had the honor and pleasure of serving as the 48th Mayor of Indianapolis (known as "Indy" to locals), the Capital of Indiana and the nation's twelfth-largest city. Infrastructure and the automobile have a long history in our state, which is reflected in our nickname the "Crossroads of America."
Outreach Aids Environmental Justice in Transportation
An effective outreach and communication effort is essential to any transportation or infrastructure project but never more so than when Environmental Justice (EJ) communities are within the project area.
County scores EPA grant
EDWARDSVILLE — A $400,000 federal grant is set to aid the county in identifying and, in time, redeveloping contaminated properties. U.S. Congressmen John Shimkus, Rodney Davis and Mike Bost joined Madison County Board Chairman Alan J. Dunstan on Wednesday to announce the $400,000 grant from the Environmental Protection Agency (EPA) aimed at identifying brownfields, or historically contaminated sites, in the northern, eastern and southern portions of the county.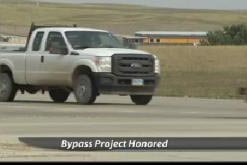 Watford City Bypasses Nominated for America's Transportation Award
When people talk about road construction, the words used typically aren't kind. But Watford City residents can rejoice that the tough times they dealt with during the construction of the Highway 85 bypasses was worth it.
California Senate panel advances transportation plans
California state lawmakers have the ball rolling in their pursuit of plans to address some of the $59 billion in state transportation needs over the next decade. Back from summer recess, the Senate Transportation and Infrastructure Development Committee met recently to consider multiple funding options.
Lt. Gov. KarynPolito, Transportation Secretary Stephanie Pollack to attend ribbon-cutting ceremony for new $4.3 million Amtrak station in Holyoke
HOLYOKE — Passenger trains haven't stopped in Holyoke for about 50 years, but that's all about to change. On Thursday, Aug. 27, Lt. Gov. KarynPolito and state Transportation Secretary Stephanie Pollack are expected to join Holyoke Mayor Alex Morse and other dignitaries for a ribbon-cutting ceremony for the new $4.3 million Amtrak passenger train station in Holyoke.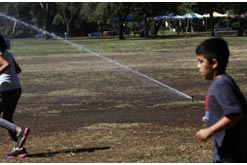 L.A. continues dramatic water savings; 21% in July
Los Angeles residents cut their water use by 21% in July, surpassing the mandatory conservation standard set by state regulators to combat the drought, Mayor Eric Garcetti said. This compared with 2013 means that for the second straight month, Angelenos have met their state target and will avoid fines and other penalties for non-compliance.
Scotts Valley recycled water station opens
SCOTTS VALLEY, Calif. —The first fill-up station for recycled water on the Central Coast opened in Scotts Valley on Wednesday -- and you can't beat the price, because it's free. The Scotts Valley Water Department opened three stations along Kings Village Road.
Phosphorus Recovery System addresses water quality challenges with manure
The vexing problem of phosphorus in the water continues to make big headlines and haunt animal agriculture. This political hot button, however, has led to some positive developments in research regarding on-farm practices and technology.